Time flies!
Today, Ultimate Addons For Beaver Builder (UABB) celebrates its 5th year. 🎂 🎉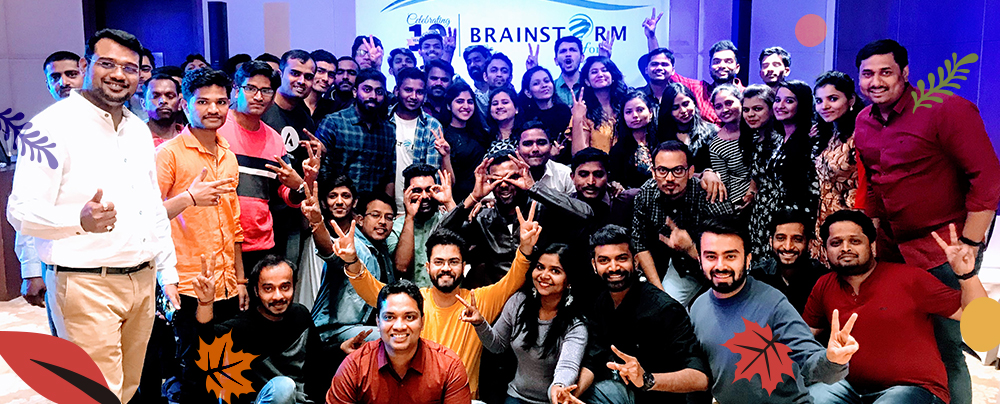 We have come far but it feels just like we started yesterday.
Being the pioneers of page builder addons, we launched UABB back then with 30 creative modules and features. It has now grown to become a popular Beaver Builder plugin and a collection of 65+ unique modules and several powerful features.
We thank you all for your endless love and encouraging support. You are an integral part of this beautiful 5-year journey and we wish for many more together. ❤️
With every Ultimate Addons update, we make sure to deliver the best additions for your website and keep you up to date with industry trends. Every update is crafted with lots of research and careful development.
While giving you creative designs we also keep speed and flexibility in mind. And we promise to continue delivering the best modules with your favorite UABB!
It's nice to see your appreciation, feedback, feature requests through our Facebook groups and emails. It encourages us to grow and succeed every day.
The 'Ultimate' Journey!
Let's see what UABB's exciting journey looks like:
Collection of 65+ Creative Modules
Ultimate Addons For Beaver Builder provides one of the biggest collections of unique and creative Beaver Builder modules.
These flexible modules are suitable for any kind of website and you can customize them easily.
You will find addons for every website need. UABB provides a range of different modules:
Creative Modules like Advanced Menu, Business Reviews, Dual Button, Hotspot, Video Gallery, and more.
Content Modules like Advanced Posts, Advanced Tabs, Business Hours, Team, FAQ, Price List, Testimonials, and more.
Form Stylers like Contact Form 7 Styler, Gravity Forms Styler, WPForms Styler, and WP Fluent Form Styler.
Lead Generation Modules like Call to Action, Contact Form, Marketing Button, Ribbon, Subscription Form, User Registration Form, and more.
Dedicated WooCommerce Modules like Add To Cart, Categories, Mini Cart, and Products.
Exclusive Features like Column Shadow, Particle Backgrounds, Row Separator, Row & Column Gradient, and more.
You can see full ist Beaver Builder modules on the website under the Modules section.
300+ Row and Page Templates that Save Time
UABB began with just a few page elements and now it has over 300+ page and section templates that can be imported and used to build websites.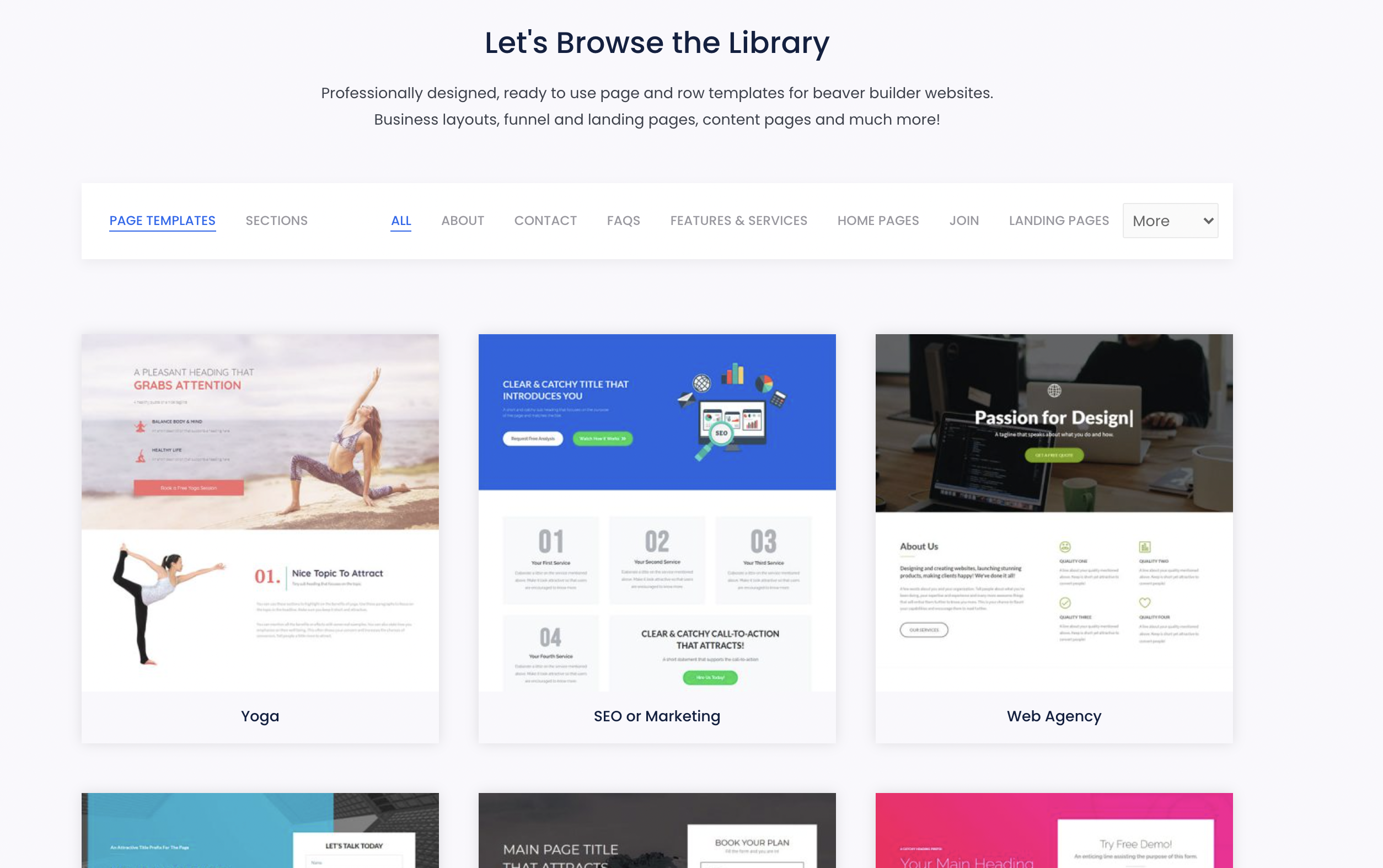 All templates are professionally designed and ready to use for business layouts, sales funnels, landing pages, content pages, and much more!
You can access these awesome templates right in your WordPress backend so you can forget to design from scratch!
100+ Full Website Templates to Help Deliver Projects Faster
Choose from 100+ beautiful, conversion-optimized full website templates to design websites faster than ever before. You can import them in just a few clicks, tweak them easily and go live in minimum time.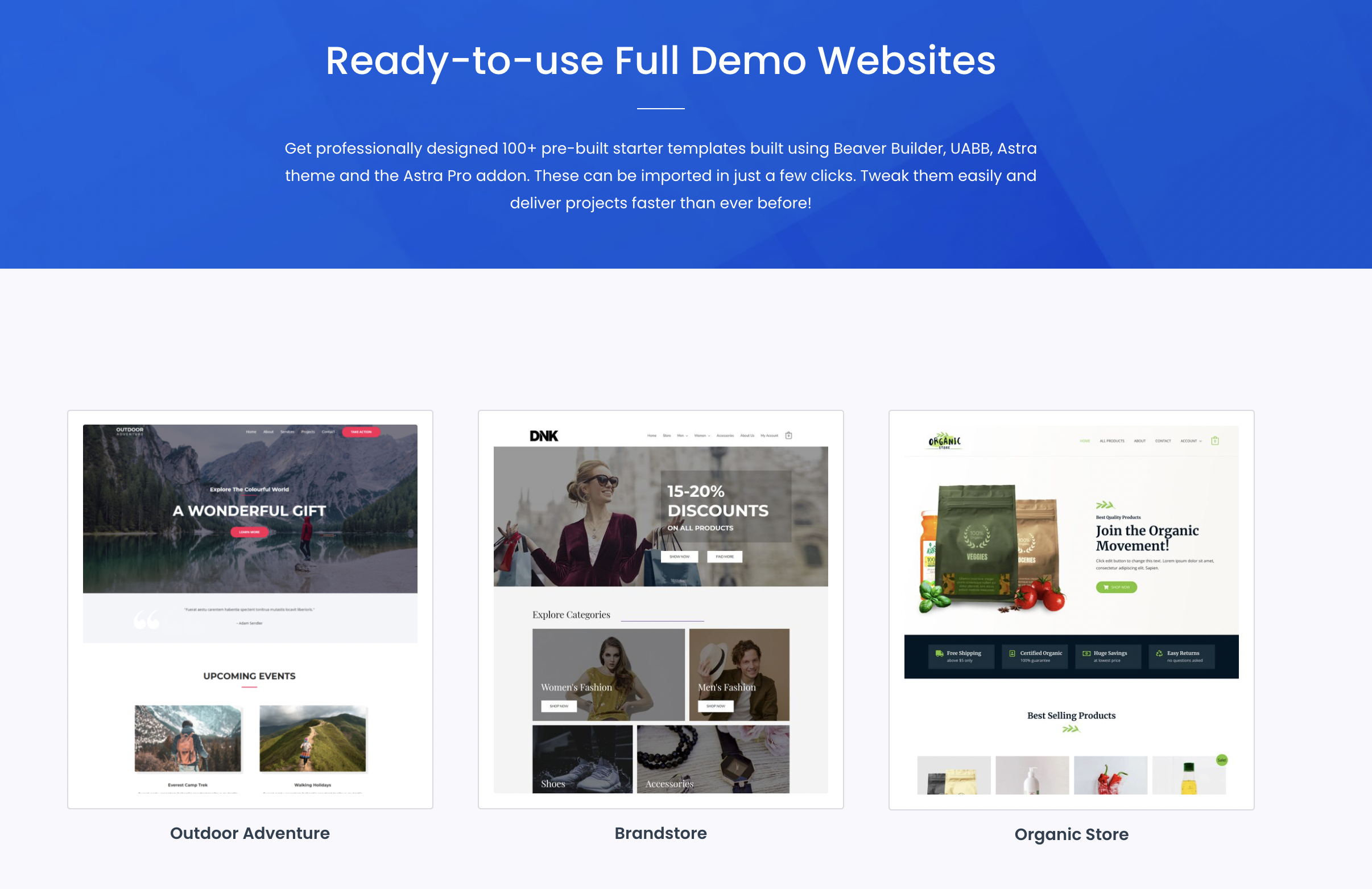 You will find templates for every niche including restaurant, healthcare, pet care, bakery, small business, online classes or courses, WooCommerce stores, and a whole lot more!
Have you checked the new awesome Beaver Builder templates we released? If not check them out here.
If you want to explore the entire library visit here.
UABB also offers an extensive knowledge base and intuitive support portal to to provide help as and when you might need it.
50+ Presets: Stunning Ready Designs for UABB Modules
Ultimate Addons is the first plugin to bring one of the most exciting features – Presets for UABB modules.
Presets are set of different pre-designed templates for modules that help you to set sleek and stunning designs just with a click
Various Ultimate Addons modules offer a set of pre-made designs to choose from. It saves time and effort to get a professional look for your module.
Presets are recent additions to Ultimate Addons and are available for popular UABB modules – Info Box, Dual Button, Heading, Dual Color Heading, Business Hours, FAQ Schema, Team, Advanced Accordion, Advanced Tabs, and Countdown.
So that was about the journey till now. Let's see what comes next!
What's New For Web Creators?
As you already know, UABB is jam-packed with awesome modules and features. This list will get longer and more exciting with upcoming updates. 🎨
Highlights of upcoming releases:
Timeline Module – Ever wanted to display your content in timeline format? Soon you will be able to do so with UABB.
Woo-Checkout Module – Another dedicated module for WooCommerce that will help you to design custom checkout pages. Payment Module – Customize and control the payment options on your website
Display Conditions – This is an exciting feature coming up in UABB. This will allow you to control the visibility of any module based on date, time, user role, other conditions.
More Presets – More modules will be able to be customized with presets.
Special Birthday Treat – 20% Discount 🤩
To celebrate our 5-year journey together, we are offering 20% OFF on all plans and upgrades.
If you wanted to get Ultimate Addons for Beaver Builder but you haven't yet, now is the time!
You can also upgrade your license from an annual to a lifetime package with this special discount. Visit the store now.
Have any questions, drop a message at our support portal.
Comment below and send your birthday wishes to UABB. We would love to hear from you. 🥰