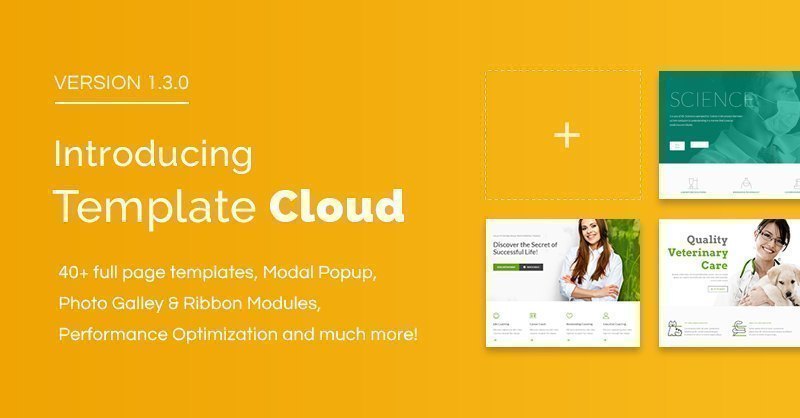 When we first released UABB, it offered a library of over 50 Sections that you could just drag and drop to build gorgeous pages in minutes. It was revolutionary! People wrote to us about how much time it is saving them because they didn't have to start everything from scratch.
As we were working further on new Sections and Page Templates, we realized no one was going to use all of them in one project. Imagine, you're building a website for a Restaurant. Does having a template for a Travel Company in your page builder interface make any sense? Of course not! It adds unnecessary bloat, the interface gets cluttered and confusing for your clients.
So we began working on something that would let you install only those templates that you need in your Page Builder.
Introducing Template Cloud
Template Cloud is a revolutionary new feature. It is the place where you can see all the templates that you have available in UABB. Simply explore the library of templates right in your WordPress backend and install the ones you like with just one click. Sounds amazing, doesn't it?
This not only removes the unnecessary bloat, but we have architectured it in a way so you will have new templates available instantly, without having to wait for the plugin to be updated. Thanks to the power of WordPress REST API 🙂
Adam Preiser from WPCrafter.com has already made a video walkthrough of this new functionality.
40 New Page Templates
We're thrilled to launch 40 page templates with this update! For several weeks, we've been working on these and it was one of the most anticipated features in UABB. These templates are gorgeous, built to work seamlessly with UABB Global Settings and Typography of your theme. This means, all of these templates adapt to your design and style automatically and any tweaks you need can be made quickly.
Here are some of these templates –
You can see the rest of them on our website.

2x Faster!
One of the main focuses we had for this release, was performance optimization. With the revolutionary new Template Cloud, we also refactored our code base and the result is UABB now functions at least 2x faster and requires much lesser memory.
Here are some of the other things we've done –
UABB now has it's own menu
Deprecated custom Color Picker
Enable / Disable Modules settings
This makes UABB the most lightweight, 100% modular, and fastest addon for Beaver Builder! Nothing else even comes close.
New Modules
We're introducing 3 new beautiful modules with this release. Now, you won't need to install additional plugins just to add a simple photo gallery or a modal popup on your website. The Ribbon is a very creative module that you can use to highlight your offers this holiday season. Demos below –
Also, we've made major improvements in the existing Google Maps module. This enables you to add multiple markers and display different locations on the same map. Checkout the updated demo.
Other Changes
Here's a list of other minor changes in the plugin –
Improvement: Advanced Tabs – Added an option for equal width
Improvement: Button – Added new options for transparent style
Improvement: Info Box – Added an option for content padding
Improvement: Interactive Banner 1 – You can link the complete module now.
Improvement: Interactive Banner 2 – Added an image overlay color option
Improvement: Price Box – Added support for custom HTML tags
Improvement: New options in Contact Form – Background, Spacing and Radius
Improvement: Added Color Options for Contact Form Validation
Improvement: Flip Box – Added custom height option for medium and small devices
Improvement: Image Separator – Added image size option for different devices
Improvement: Contact Form – Added Email Template. New options messages
Enhancement: Advanced Posts – Added styling options for Pagination buttons
Enhancement: Advanced Posts – Added styling options for Masonry Filter buttons
Enhancement: Advanced Posts – Formatting restored for excerpt and full content
Enhancement: Info Box – Added Image / Icon vertical alignment option
Fixed: Info Box – Fixed the Icon / Image Hover Color issue
Fixed: Advanced Tab – Double border in responsive view
Fixed: Updated separator alignment dependency on width option
Fixed: Issue with container size in Tab & Accordion
Fixed: CTA Button – Auto & full width was not supported in some cases
Fixed: Info Circle – The background color was not working on mobile devices
Fixed: Advanced Post – Fixed issue with custom size image
Fixed: Button – Transition fixed
Fixed: Testimonials – Conflict with BB core module
Fixed: Testimonials – Unusual space between title and image
Behind the scenes..
UABB is getting translated!
We've setup a GlotPress portal; the same software that Beaver Builder and WordPress community use for managing translations. Go ahead and translate UABB in your own language. If you have not used GlotPress before, check these articles from our knowledge-base to get started.
New knowledge-base site
It was already time for a dedicated knowledge-base site. Go through it, we have over 40 articles already in it.
Free Header Footer Builder Plugin
This plugin will allow you to create custom header and footer for GeneratePress, Genesis, or the Beaver Builder Theme.
Our new website
We redesigned our website to make it more conversion focused. If you have any feedback to share with us, please drop them in the comments below. As always, we love suggestions and feedback!
Team Outing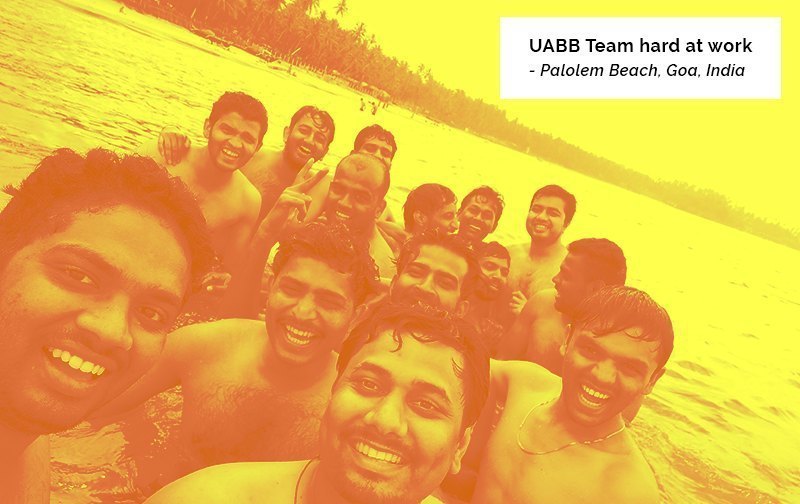 A few days ago, our team took an off and spent a weekend in Goa, India. It was fun and relaxing. You can take a look some of the pics here.
In closing
Did this post go too long? Template Cloud, More Modules, Performance Optimization and all other new stuff! Go ahead, and try the new version. If you are not sure of how to update, here are some articles for you. Should you have any questions about this release or need help, please feel free to open up a support ticket.