Let's consider we are searching for a Car care center in our vicinity and see the following list of services providers ranking on the first page.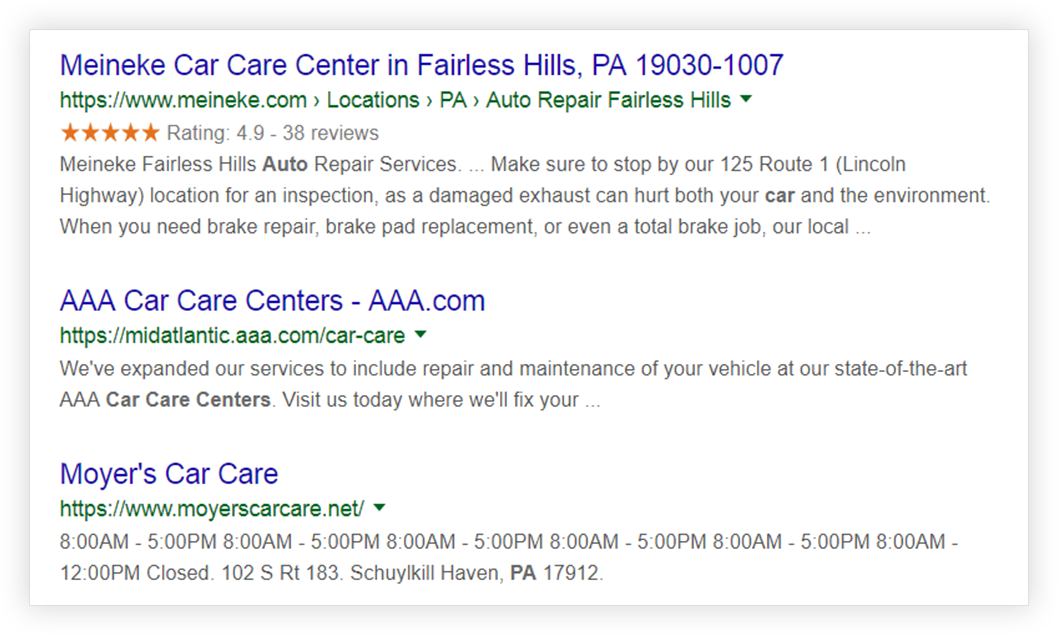 Which one will we go for? It's obvious that we'll look for a reliable place where we can sit back and relax while the professionals do their thing.
In the above example, the first result looks appealing since it has some ratings to show along with the other information seen below.
Real reviews and ratings boost credibility and attract new users to put their trust in business! This is true in the case of websites too! People love to read reviews before selecting one particular service provider for themselves.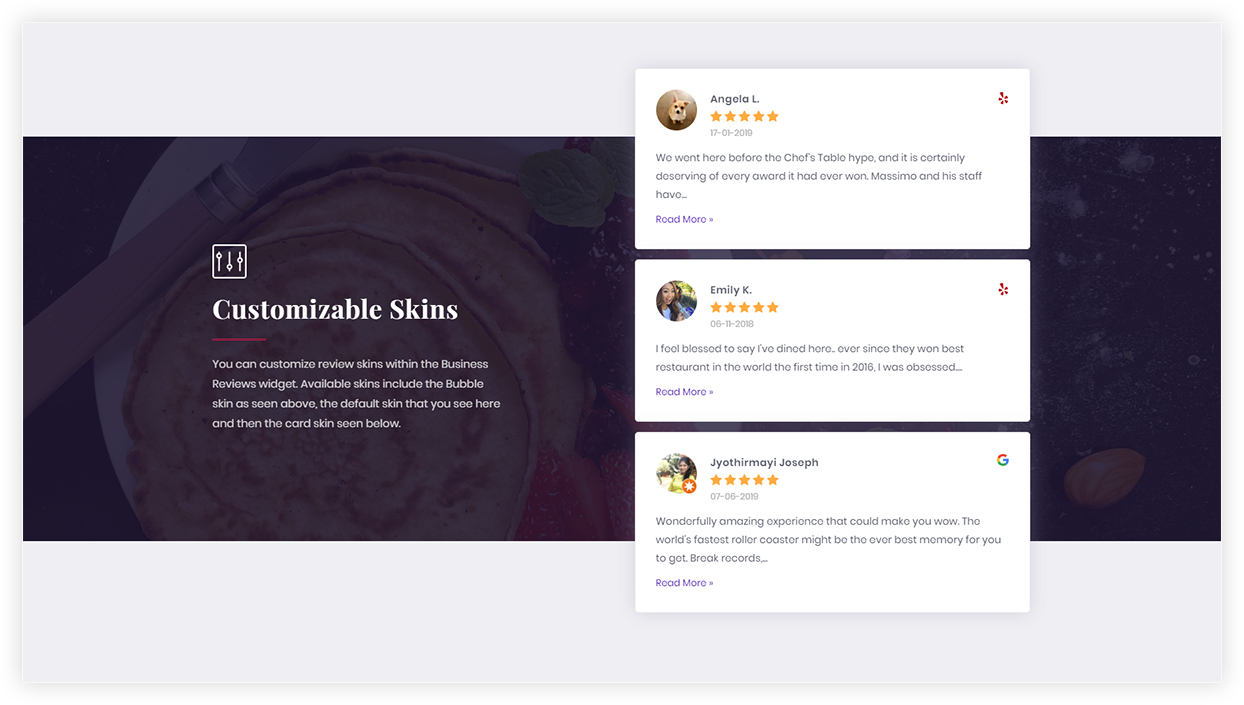 Now, this is what we want you to make the most out of the Business Reviews Module introduced in the Ultimate Addons for Beaver Builder.
This module –
Fetches reviews from Google and Yelp on your website
Adds a rating schema type that keeps search engines informed about it and therefore boosts the chances of displaying ratings in the rich snippet as seen in the example above.
Before we move on to understand how this can be done, let's take a look at a few benefits of doing so –
Provides more content for search engines to scan – increases the chances of product or services page to rank for long-tail keywords
Gives you a different piece of content to differentiate your branches set in different locations or even from another business providing similar services.
Gives the page an opportunity to rank for words that users often use apart from the marketing phrases you use on your website.
Customer reviews are more trusted than manufacturer descriptions
All set to get this on your Beaver Builder website? Let us take a look at how easy it is to set it using the Business Reviews module of the Ultimate Addons for Beaver Builder.
How to Add Google and Yelp Business Reviews to Your WordPress Site
Configure the Google API and Yelp API key form the UABB settings
For Google reviews – get the Google Place ID and for Yelp reviews – get the Yelp Business ID. Add it to the module.
Enable the schema support and choose a schema style
That's it! You're good to go!
With this easy setup, the Business Reviews module also takes care of your design and color theme. Here are a few points that show how this module help –
# Love to display content with sliders?
Many of us like moving content on a website. The Business Reviews Module allows displaying reviews in a carousel. It also has an option for grid layout with a column number setting.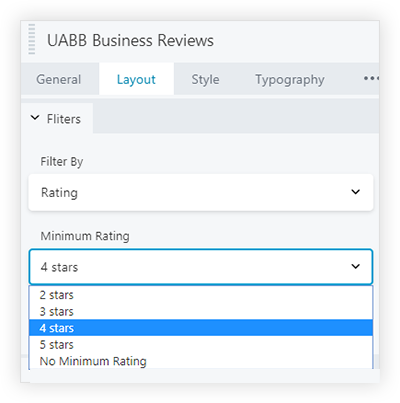 # Wish to strain out negative reviews?
At the initial stage of the business, you might get some undesired reviews. That is totally fine because negative reviews can contribute to a positive impression. But in case you don't want to show them choose Minimum Rating and skip them from displaying.
# Want default yellow star rating to shine in different colors?
The widget provides total control on the star rating style. Set a nice color and size to make them more attractive.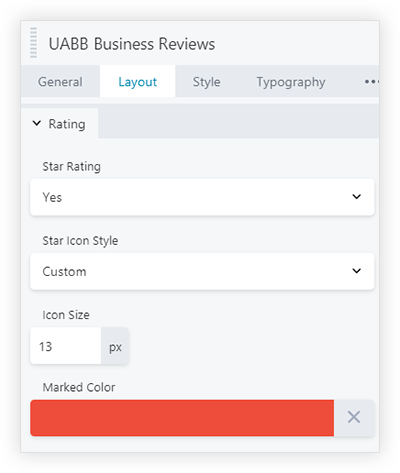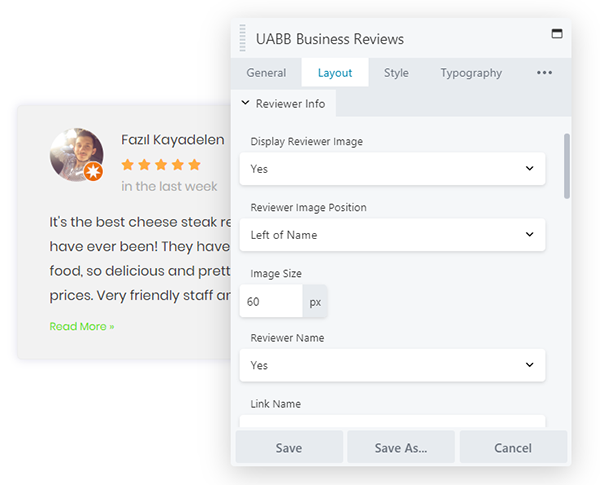 # Display Reviewer Information to make the review look more genuine.
Along with a review text, display reviewer name, and profile photo. So that users can know that the review is real.
Along with the visitors, Business Reviews Module helps to make page SEO friendly.
Business Review module adds Review schema to website markup
Review schema adds star ratings to markup. It sends a signal to Google that the Business is being loved by customers. With reviews, Google can show relevant and correct information to users. And as a reward, Google can prioritize your website in search rankings.
The module adds star ratings from Google/Yelp as a field for aggregateRating in selected schema type.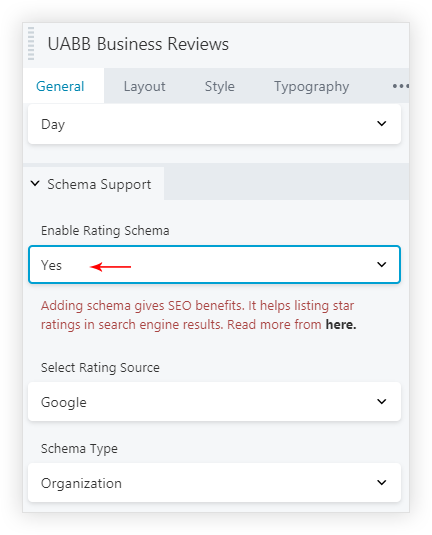 Note: Adding ratings into snippets also depends on various other factors considered by Google. This feature only adds more chances for it to be displayed.
Moreover, positive reviews can engage visitors and reduce the bounce rate of the page.
How to get Business Reviews module for Beaver Builder?
Just update Ultimate Addons for Beaver Builder to the latest version and enjoy using this stunning module.
To get more help with the widget dig into our knowledgebase article. In case you don't find your answer in the article, write to our amazing support team.
Do let us know your "Reviews" in the comments below 🙂